Palms beauty bungalow
Palms Beauty Bungalow, formerly Palms Tanning & Lacquer Lounge, was created with the intention to bring something different to the beauty industry. Tired of the typical nail salon and franchise spray tanning salons treating you like a number or dollar sign. Come hang out in our private little babe cave with us and experience the difference.
When you come to Palms, we build a genuine relationship with you. We believe every client should leave as a friend with a bomb spray tan & gorgeous nails to brag about. Every. Damn. Time.
The space is small and private where it's just a one-on-one, uninterrupted experience with us. Clients are welcome to speak freely and feel totally at ease. Many clients love coming in to a safe space during their appointment where you don't need to apologize for your stretch marks, scars, skin, cellulite, small boobs, big boobs, or anything  else that makes them a woman. We've got you, girl! Let loose. Chill out. Be yourself, the best version of it.
We understand that spray tanning is a vulnerable, weird experience at first.  I can assure you that we make it as comfortable as possible for you! Coming from a plastic surgery background (& as a new mom!), there is ABSOLUTELY no body shaming here, Babe! We work with you and your comfort level first and foremost. Good vibes, only! We promote body positivity of all sizes, shapes, color, age and everything in between. Come experience a Palms Spray Tan Self Love Session!
My hope is that Palms is the salon you've always searched for.  I hope it is refreshing to come to a salon where your technician knows you by name and tailors your nails or spray tan to your specific desire or needs. My goal is to really just leave a positive impact on everyone I meet, promote self love, and have you leave with a smile each time you visit.
We pride ourselves on providing clients with customized nail and body care while maintaining the highest level of cleanliness  available. Let's be besties now, okay!?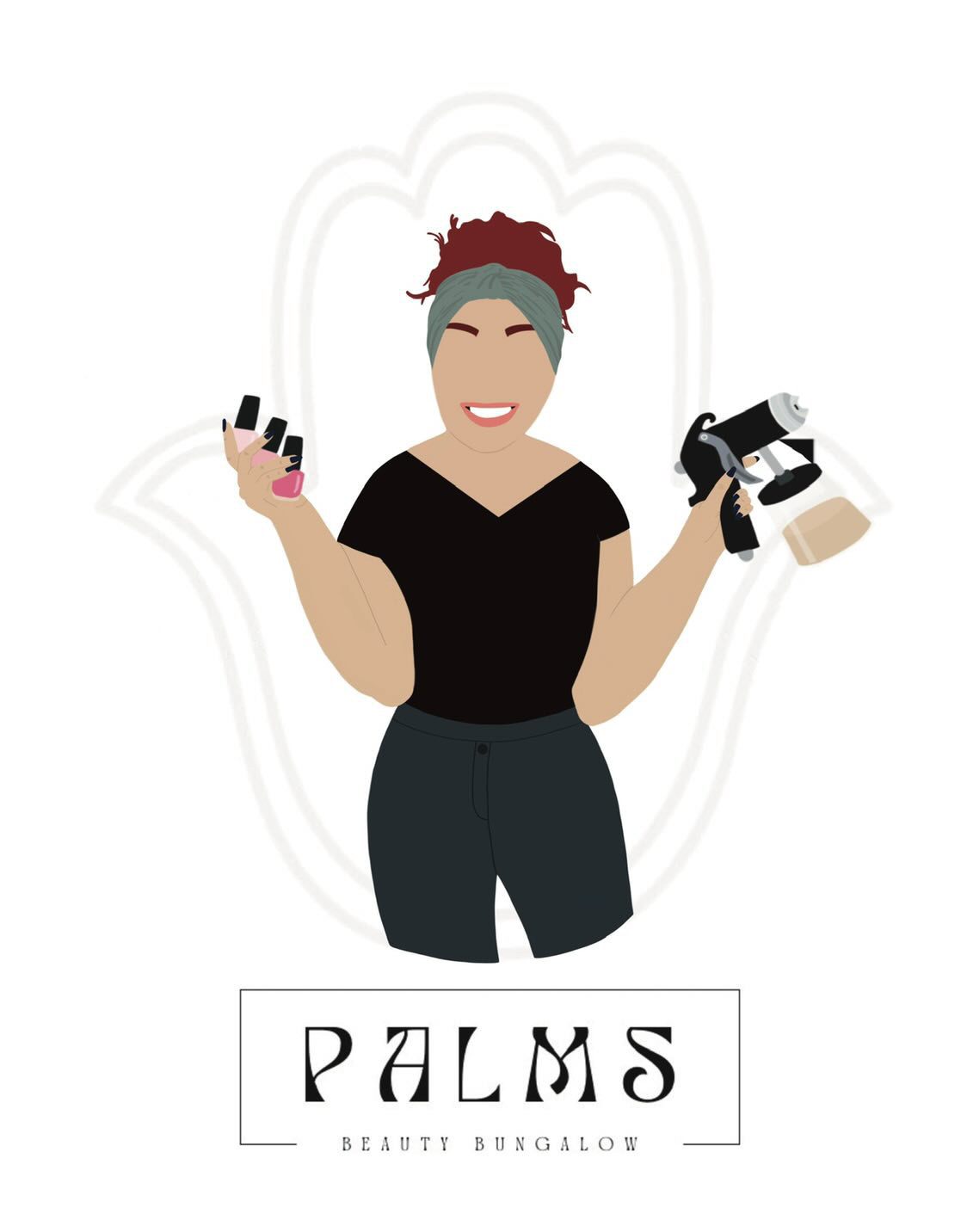 Owner, Licensed Cosmetologist
Nail & Spray Tan Technician
Gina is a licensed cosmetologist and specializes in spray tanning & gel manicures. After spending 11 years working in plastic surgery, she received training in medical skincare, laser, facial and body treatments. Gina is a Certified Therapist with Farmhouse Fresh products. Currently, Gina is obsessed with structured gel manicures and express spray tans. When she's not spending her time at her favorite place, her camp at Sacandaga, you can find her binge watching tv shows, listening to true crime podcasts or spending time with her son Benny, daughter Sadie, husband Jim & dog Zeppelin.

Danielle started out her career as a nail Technician, graduating from Aesthetic Science Institute in 2013, and doing nails independently on the side. In 2015 she took a job as Lead nail tech at Glitter Nail Bar in Saratoga where she worked for 2 years. In 2018, Danielle and her husband welcomed their baby boy, Jackson, into the world. After taking some time off, Danielle was ready to be back in the swing of things and doing what she loves; Nails! Danielle specializes in ANC manicures.